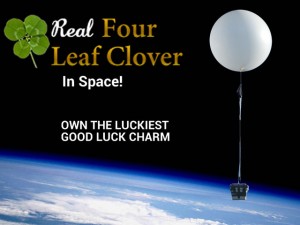 RealFourLeafClover.com is offering a chance to own a four leaf clover that has been to space! Yes, you read that correctly. Can you think of an object that could offer more luck than a genuine four leaf clover that has left this earth? We can't, so we started a kickstarter program to accomplish this goal – send our clovers into space (30km above earth) via a weather balloon and then retrieve them using an on board GPS signal.
Pending successful funding of this project, delivery of clovers will be completed by September 2014.
If you are interested in this exciting offer, show us some support at KICKSTARTER!